Testimonials

B. Green - March, 2021
Jess had everything ready to go as soon as we arrived at the ramp. I immediately noticed that his boat and rod/reels were top notch and very clean and well taken care of. Once Jess found out it would be my sons first fish that day, he made sure nobody fished before my son caught his first fish.
I kid you not, my boy did catch his first fish within minutes of dropping a line! Jess has many spots scouted and will get you on the fish no matter how hot or tough the bite may be that day. I highly recommend Jess for a family guided trip or for the serious angler looking for a guide to fish unfamiliar waters. Highly knowledgeable, patient, and all around awesome guide. I would give a higher rating if I could. Thank you Jess!
---
M. Morillo - Oct, 2020
Captain Jess was an awesome guide. He was extremely patient with my 12 & 9 year old and provided very helpful fishing advice. For our 1st experience in fishing we couldn't have asked for a better guide. We came home with a handful of Crappie & a Catfish. We are all hooked and can't wait to schedule our next trip with Captain Jess.
---
P. Howard - July 2020
My wife and I vacation in the hill country every year to get away from the salt water. Living In Corpus is beautiful and a sportsman paradise but the hill country rivers are as we call them our fountain of youth. A friend of mine sent me a crappie website of a guy fishing crappie out of the same model boat as mine. I thought it would be cool to see his electronics and see if I can apply it to my area. So the trip booked for Monday Jess calls me the night before and tells me fishing was very slow and we might want to reconsider. I told him it didn't matter I just really wanted to check out the technology on his boat. Jess showed 15 min early everything rigged and ready. The trip went off with out problems and Jess explained in detail how all his systems worked. He is very knowledgeable in his equipment and took the time to explain the whole system. He was very patient with my wife and made sure she was included in the fishing. I learned so much in such a short time that I have give this 5 stars. But it also helps when you catch 48 slabs when the fish are not bitting!!! I can only image what it's like when they are!!!!
---
Dennis - Sept 27, 2016
Jess is the best!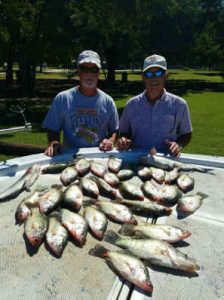 Just got back from a guided trip on Lake LBJ with Jess Rotherham of Texas Crappie Fishing Service.
Texas Crappie Fishing Service? Crappie Fishing Guide.
What a professional and does he ever work hard to put you on fish. We hit about ten brush sites and pulled 30 keeper Crappie and released as least that many more. Jess also dressed two excellent blue catfish as well as cleaning our day's catch. I find his rates extremely low for the value and will go fishing with him again.
A HUGE educational day! I could not be more pleased.
---
M. Lowery - July 13, 2016
Had a make-up trip with Jess (Pop N Cork with Texas Crappie fishing service) on LBJ today. Limited out before 0930. Had several throw backs also. Big fish of the day went 1.3 pounds. Great time on the water and Enjoyed some of the famous deer sausage!
On the water at 0600 after throwing cast net for minnows and shad. Fished brush piles and lay downs and the Crappie started slamming jigs tipped with minnows as soon as the sun broke free of the clouds. Caught 18 keepers plus a few throw backs on the first pile alone. Later in the morning switched to jigs tipped with Crappie nibbles and had just as much success. Off the water before it had a chance to get too hot. And yes the wind started blowing shortly after sunrise.
---
N. Erickson - May 5, 2016
Today I decided to bring my son out with Jess and his boy. The weather was perfect, the lake was perfect and it was a great day. We hit the water at 7:30 and fished until about 1 pm. We caught 2 drum, 2 black bass and 39 keeper Crappie (plus a number of unders). As before, this trip wasn't about the meat, it was about having my son learn more about fishing for Crappie with A.) an experienced captain and B.) someone his age. Perch is a great kid and him and Finn got along great. They fished together, played together and helped each other out on the boat. Oh, and Jess was super patient with them while teaching them (even Perch is still learning).
Temp was 60 air to start, made it to mid 80's. Wind was pleasant. Fish were consistent pile to pile. Nothing crazy, but we found them everywhere we went. If anyone was wondering, both boys are 4.
---
Erik - May 2, 2016
Had the pleasure of fishing with the Crappie Whisperer, aka Jess, today. Was an absolute blast and caught a lot of fish. Had to battle a little weather here and there, but we whacked 'em pretty good. Walked away with a lot of Crappie knowledge and a new appreciation for Lake LBJ. GOOD TIMES! Thank you, Jess!!!
---
S. Gonzales - October 23, 2015
Sorry fella's, but this is a very late report. I was on vacation and acted like a bum, just because I didn't have to work.
The original plan for my vacation was to head up on to Lake Fork (I live in south central Texas) and hire a guide to do some white bass fishing. That was planned for the 23rd of October. Due to Mother Nature, we ended up calling the trip on the 19th. My pal Ernest Coburn, called up guide Jess Rotherham of texasCrappiefishingguideservice.com, and he was open on that Friday. We didn't know if the weather would cooperate, so we were looking for something local. The weather held and we fished Lake Austin. We caught a decent amount of fish, so the action was steady, but the Crappie never really turned on. Being from Canyon Lake, the Crappie in Lake Austin were monsters. All of the keepers averaged about a pound, and we weighed one in at 1.2lbs. Now, I know a lot of y'all have seen much bigger, but like I said, the quality of the fish there was super impressive compared to my home lake.
We caught all kinds of species, so that was fun. We caught a few whites, a giant bream, a nice healthy yellow cat, a few black bass, and some undersized Crappie. While we didn't limit out, we had enough for some good table fare. Jess is a really fun guy to be around, and he gave us some homemade jerky and dried sausage that he whipped up in his smokehouse. That was a VERY nice bonus. All in all, it was a great time on the water. We ended up with 7 keeper Crappie (all huge, by what I'm use to), one nice yellow, a skillet sized bream, and a keeper white for the ice box. Ernie's wife cooked up the Crappie for us that night, and it was fantastic.
We were using minnow tipped jigs, for the most part (jigs were by dan@dansjigs.com) and the two colors that produced were the Candy Girl and the Mean Green jigs. After awhile, we tried straight minnows and caught a few with that presentation. We used Pro Angler Crappie rods and Shimano Shimano Symetre 1000 spinning reels, lined with 10lb NanoFil. All fish were caught on brush piles in 20ft of water.
I'm not in these pics, by the way, because I'm the nerd that had to get the pics with my phone. That's Jess holding the yellow cat and Ernie (no head) is in the lighter colored shirt. Enjoy!
---
John Ward - October 15, 2015
Jess, Brayden aka Perch aka Goober, and I all went out yesterday morning for a little Crappie trip. As always Jess was on them and we got a really nice bag of Crappie. My freezer is full of fillets, and I couldn't be happier. As an added bonus Jess took me to a spot where he was catching some big Crappie, I was lucky enough to get one that is the new lake record white Crappie, 1.61 lbs on TPWD certified scale.